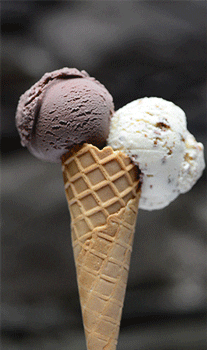 I scream, you scream—we all scream for ice cream! Nothing quite says summer like a tasty, frozen dessert. That's why we've rounded up the best ice cream shops from coast-to-coast, to checkout while you're on vacation. Treat yourself to a scoop on National Ice Cream Day, which is this Sunday July 15th. Comment below with your favorite flavor and the sweetest ice cream parlor in your city!
Hidden in the heart of San Fran, this must-visit ice cream shop is known for serving up scoops with attitude! You'll notice their hashtag motto is #lickthat. Now scooping flavors like, Dirty Chai, Malted Milk Chocolate, and Secret Breakfast, which is infused with bourbon. Yes, you read that right. Plus, they ship via Amazon Prime, so you can enjoy some Humphry's whenever you're in the mood!
2) Ample Hills
If you're in Brooklyn, make plans to grab a scoop from Ample Hills Creamery, known for their unique flavors like, Peppermint Pattie and Oatmeal Lace. The flavor we're dying to try? Ooey Gooey Butter Cake!
3) Salt & Straw 
A Portland must-visit when it comes to ice cream, Salt & Straw is a dessert-seeker's heaven. Their classic flavors are sure to get your mouth watering with names like Chocolate Gooey Brownie and Sea Salt with Caramel Ribbons. Plus, they're now scooping summer selections made with real berries like, Birthday Cakes and Blackberries. YUM!
A trip to Philly isn't complete unless you've made a stop at The Franklin Fountain. A true historical landmark, this ice cream shop is totally retro. Step back in time and enjoy old-fashioned candies & confections, along with a scoop of classic vanilla bean ice cream. 
When in Columbus, a trip to Jeni's is a must! Enjoy summer faves, like Brambleberry Crisp, Pistachio & Honey, Strawberry Buttermilk, Salty Caramel, and the one we're dying to try—Frosé!