Finding time to read can be especially hard today with our busy schedules. As most book lovers know, we have to make time to read whenever we can; on our lunch breaks, the train's evening commute, even before bed. There's surprising evidence that suggests reading a book before bed can actually be good for us. We've rounded up five reasons you should be reading at night, before you fall asleep:
Reading Will Help You De-Stress And Sleep Better
Reading before bed will de-stress the body and allow you to fall asleep faster and more easily. Escaping into a fictional world for a short time, eases tension and helps you to relax. According to research, reading, even for just six minutes, can reduce the effects of stress faster and more effectively than virtually any other method.
2.   It Calms And Improves The Mind
Not only does reading help calm the mind, lowering stress levels by nearly 68 percent, but it also improves memory. Research claims that activities, like reading and working crosswords, dramatically lowers the rate at which our brain's function declines as we get older.
3.  Reading Reduces Screen Time Before Bed
Reading before bed is a great way to cut down on screen-time. According to multiple sources, looking at a screen before bed decreases our body's natural ability to get a restful night's sleep, due to several factors: the disruption of melatonin production, it keeps the brain alert, and our devices tend to wake us up throughout the night.
4.  Reading Fiction Makes People More Empathetic
According to science, reading literary fiction can make us more empathetic toward others. The study suggests that this particular genre, which often focuses on human narratives and the innermost feelings of its characters, provokes a deeper social connection in readers. When reading a good story, the reader imagines the thoughts and feelings of the character and goes on an emotional journey with them, which in turn helps to create a feeling of empathy towards other people in real life.
5.  Make Reading a Routine
Creating a routine of reading before bed will help your brain know when it's time to go to sleep. Picking up a book each night will soon cue your body to relax and fall asleep more easily. Consistency is the key.
So put on your PJs, lay down your phone and reach for a book. Let go of the day's stresses and relax into someone else's life for a few minutes. Soon you'll be drifting off into a restful night's sleep.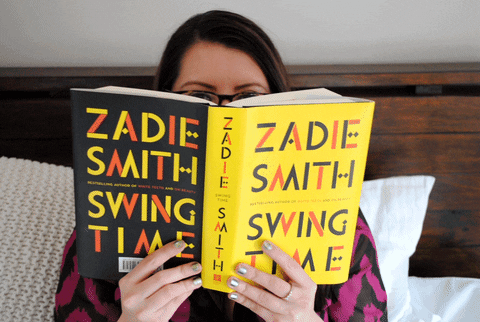 Source: Giphy